SOLIDWORKS xChallenge 2019
The SOLIDWORKS xChallenge is a competition for all FIRST® Robotics (FRC) Teams in the United States to work on their creative design and collaboration skills, and build a personal flying machine using xDesign and/or xShape on the 3DEXPERIENCE Platform. Access to the platform and the browser-based 3D modeling software will be provided to all FRC team members participating in the challenge. The first place team will win $10,000, second place will win $5,000, third place will win $3,000, with 50 qualifying runner-up teams winning $500 each. The contest begins at 12:00am EST on Monday, November 4, 2019, and ends at 11:59pm EST on Monday, December 16, 2019.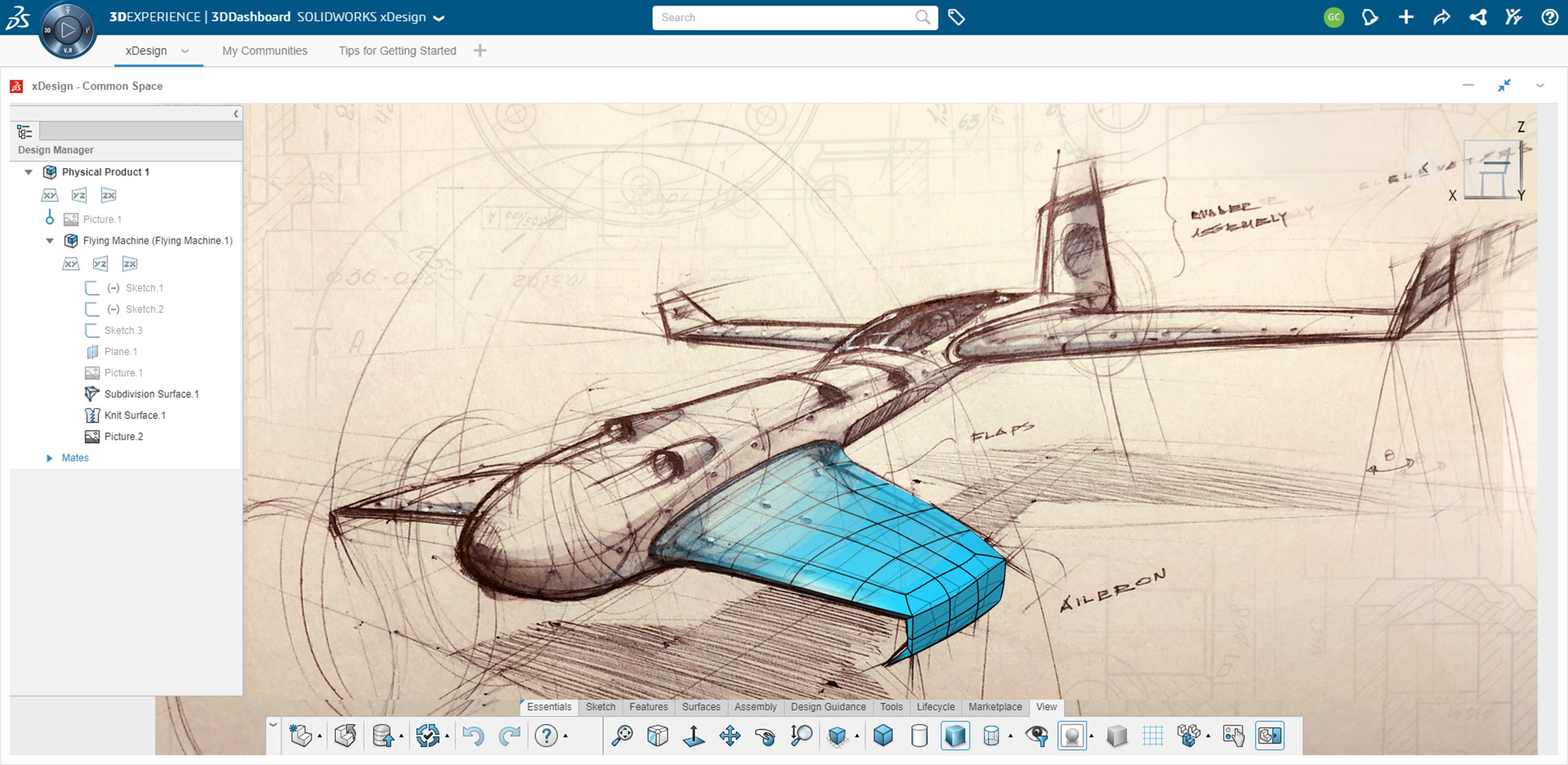 xChallenge Theme
Since the dawn of time, humans have dreamed of flight. While we currently have airplanes, space shuttles, drones, brooms and moon landers, personal flying machines are still just out of our grasp. Different cultures, artists, storytellers, scientists, and regular Joe's have all imagined and ached for human flight. What would your flying machine be?
Last year, we asked you to come up with your versions of a Moon Lander. This year, we're challenging FRC teams to design a personal flying machine, meant for one person's use. We ask teams to not get bogged down too much by the reality of human flight—we want to see what your imaginations can build! Whatever inspires your design—Da Vinci, sci-fi or fantasy movies or comics, real-world personal flying machine ideas, jet packs, animals, anything, everything—we want to see what your brilliant minds come up with and watch as you rise to the occasion. The sky is the limit for your designs—we can't wait to see them!
How to Enter the SOLIDWORKS xChallenge
It's easy to participate and enter the SOLIDWORKS xChallenge! Please review the full Official Rules for more specific information and conditions.
Register

All participating team members and team mentors must register here on this website. All FIRST® Robotics teams must be from one of the 50 United States or the District of Columbia and must have registered for the 2019/2020 FIRST® Robotics competition season prior to Monday, November 4, 2019. Your team must have at least 5 participating members who are 14 years old or older and one adult team mentor. All participants age 17 and under must have a parent or guardian fill out the registration page on their behalf. Teams will not be eligible for the xChallenge unless we receive completed online registrations from at least five eligible Team Members and one Team Mentor for each Team.

Become a Platform Explorer

Shortly after registering for the SOLIDWORKS xChallenge, you will receive an email inviting you to create a 3DEXPERIENCE ID. This ID will give you access to the 3DEXPERIENCE Platform, xDesign, and xShape. xDesign is a parametric 3D modeling app; xShape is a subdivision modeling app that is great for making organic shapes and aerodynamic models. Both of these apps run in a browser with no installation necessary. When a team member signs up for the SOLIDWORKS xChallenge, they will be granted the roles of 3D Sculptor and 3D Creator. These roles allow team members to use xShape and xDesign, respectively, and these apps work perfectly in tandem. We will also add you as authors to the SOLIDWORKS xChallenge Community where you can communicate with other teams from across the country, ask questions, post pictures, and just have fun!

If you already have a My.SOLIDWORKS account with the same email address that you used to register for the xChallenge, then you can use those same credentials to log in to the 3DEXPERIENCE Platform.

If you participated in the 2018 SOLIDWORKS xDesign Challenge for FRC Teams (in which teams designed a moon lander), then you would have already created a 3DEXPERIENCE ID, and you can log in using the same credentials.

Get Access to Trainings on My.SolidWorks.Com

We will provide webinars, trainings, and tutorials for all interested FRC teams, but the best place to find training material for xDesign and xShape is My.SolidWorks.com. Once you've registered for the 3DEXPERIENCE Platform and are ready to use xDesign and xShape, you can click on the "Training" button to be taken to My.SolidWorks.com and create a user ID. Once you sign up for My.SolidWorks, you will have access to the most up-to-date training materials, plus forums and learning paths.

FRC teams who are already sponsored by SOLIDWORKS have access to My.SolidWorks included with their sponsorship and can sign up with their serial numbers. Signing up with a serial number grants you full access to all the tools and trainings My.SolidWorks has to offer.

Design Your Flying Machine!

Once your team is signed up and ready, it's time to model your personal flying machine! You may use xDesign and xShape, or either of the two apps to do this. Part of your final entry will be answering questions explaining your flying machine's story and design inspiration, so be sure to discuss with your team and think about what inspired your design, how it will be powered, how long it can maintain flight, how it would land, etc.

Post About Your Design & Collaborate

Part of your team's score is based on how often and how well you collaborate with other teams in the 3DEXPERIENCE Community. Post about your team's design, learning, and experience using SOLIDWORKS xDesign and/or xShape to the online 3DEXPERIENCE Community called "xChallenge Community" (posts may also include pictures and/or videos of your Team Members, but do not include any music or other copyrighted sounds videos).

All posts to the community must include two 6Wtags in the body: #[TeamNumber] (such as #1234), set under "WHO" and #ContestEntry, set under "WHAT". There is no limit to the number of posts each team may make, but each post must be unique and relevant to the xChallenge. We will have a video explaining how to make posts in the community and use 6Wtags.

Submit Your Model

All entries must be submitted on this website by Monday, December 16, 2019 at 11:59pm EST. To be considered for prizes, all teams must:

Answer the following three questions on the online entry form when you submit your design (max of 500 words per question):

Give an explanation of your design.
Explain the story behind your design inspiration.
Describe how your team used xDesign and/or xShape to create your design.

Submit a single compressed .zip or .rar file (maximum size of 300 MB) containing up to three presentation sheets (in PDF or JPEG format). While teams are encouraged to be creative with the composition of these three sheets, teams must show the FRONT, SIDE, TOP and ISOMETRIC/ PERSPECTIVE views of their model in at least one of the presentation sheets. We love creativity. Use your imagination here to increase your chances of winning one of the prizes.
Teams must invite the user "xChallenge Administrator" as a Leader & Owner to their collaborative space so the judges may see their models.
Judging Criteria
Your Team's entry will be judged on the following criteria:
Creativity of Design and Ideas (34%): Teams must create a story behind their design inspiration. How unique and well thought out is their design and story?
Community (33%): How active are the team members in the 3DEXPERIENCE Community? Is the Team providing valuable and positive contributions to the Community?
Complexity of Design (33%): Teams must use xDesign and xShape to build their flying machines.
Teams may only use xDesign and/or xShape for their final designs. Use of any other CAD or design software, including desktop SOLIDWORKS, will result in immediate disqualification.
Results will be announced on or after Friday, January 3.
Prizes
First Prize: $10,000
Second Prize: $5,000
Third Prize: $3,000
The top fifty (50) qualifying runner-up teams will each win $500.
A total of $43,000 in prizes!
Any entry that scores zero (0) in two (2) or more judging criteria will be disqualified. A minimum total score of 70% is required to win the First Prize.
Winners will be announced on or about January 3, 2020.
What is the 3DEXPERIENCE® Platform?
The cloud-based 3DEXPERIENCE Platform provides access to a growing portfolio of solutions that work together seamlessly. It serves as a hub that users can tailor to meet specific product development needs. It empowers teams to create dashboards and communities, aggregate and share data, review and iterate on designs. The platform connects people and data in one place to empower collaboration, agility, and faster time to market—or in this case, a possible prize of $10,000. Users of the 3DEXPERIENCE Platform have access to roles, such as 3D Creator and 3D Sculptor, which connect them to the xApps. xApps, such as xDesign and xShape, are like a set of tools in a toolbox, allowing for seamless collaboration and design creation.
What is 3D Creator?
3D Creator is a role on the 3DEXPERIENCE Platform. It has a collection of apps used to enable users to create, review, and evaluate 3D concept designs, including xDesign. 3D Creator is a collection of web-browser based 3D modeling tools that provide easy-to-use parametric modeling capabilities.
What is xDesign?
xDesign is similar to desktop SOLIDWORKS, in that it is a feature-based parametric solid modeling application. 3D Creators have access to xDesign on the 3DEXPERIENCE Platform, completely inside a web browser. It can run on Windows, Mac, or Linux systems; the only system requirement for xDesign is a high speed internet connection.
What is 3D Sculptor?
3D Sculptor is a role on the 3DEXPERIENCE Platform. It is a 3D design solution that currently includes the xShape application. 3D Sculptors can use browser-based tools to create models with smooth organic surfaces using subdivision modeling.
What is xShape?
xShape is a browser-based 3D sub-D modeling application that enables designers, engineers, and artists to create highly stylized ergonomic and organically shaped models. Using xShape is like molding a model with digital clay instead of traditional parametric tools.
Need Help?
This is a big project with new tools, but don't worry—we're not going to leave teams in a lurch. When you register for the 3DEXPERIENCE Platform and start to use xDesign or xShape, you will be directed towards trainings on My.SolidWorks.com. My.SolidWorks is the best place to find specifically made training materials for both xDesign and xShape. FIRST Robotics teams who are sponsored by SOLIDWORKS already have access to My.SolidWorks included with their sponsorship and can sign up with their serial numbers. Signing up with a serial number grants you full access to everything My.SolidWorks has to offer, but you do not need a serial number to view and interact with xDesign and xShape trainings.
We will be holding live webinars for teams to ask specific questions and learn how to best utilize xDesign and xShape. The webinar will be recorded and added to this website and the 3DEXPEREINCE community. And the SOLIDWORKS team will be moderating the SOLIDWORKS xChallenge community to help out with any questions or issues teams may have. Stay tuned for details on these webinars!
Questions?
E-mail SOLIDWORKS.EDU-StudentContest@3ds.com and we'll be more than happy to help you out. Teams are also encouraged to post questions, comments, and ideas to the SOLIDWORKS xChallenge community on the 3DEXPERIENCE Platform. We can't wait to see your flying machines!